From the earliest moments in our journey through life we are bombarded by the concept of the fairy tale. We are dressed in tiny little shirts proclaiming us to be "Daddy's little princess" and read nighttime stories of bravery, heroism and love from little hard-bound, picture books. As soon as we can toddle we are given tulle enhanced dress-up gowns and jewel encrusted play shoes, a sparkling tiara to hold back our hair and a fairy wand with which to command the bidding of our loyal subjects.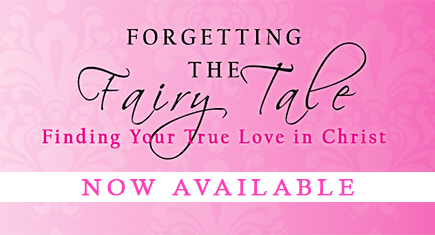 As we grow we read books, watch movies and attend plays that talk about the fairy tale life and fairy tale romance that we all must strive for to be happy. Commercials tell us that we need X product so that we can be thinner, healthier, more beautiful, more successful, more desirable, or fill-in-the-blank. Magazines hold up air brushed beauties in highest esteem and tabloids tear down anyone with a hint of imperfection, real or perceived.
At every turn we are receiving messages that are trying to convince us that we can never be happy, satisfied, successful or fulfilled unless we chase the fairy tale life. The problem, however, lies in the very definition of "fairy tale." 
According to Merriam-Webster.com, a fairy tale's definition is:
1a: a story (as for children) involving fantastic forces and beings (as fairies, wizards, and goblins) —called also fairy story

1b: a story in which improbable events lead to a happy ending

2: a made-up story usually designed to mislead
The synonyms also share some enlightening information with us.
Synonyms: fable, fabrication, lie, falsehood, falsity, fib, mendacity, prevarication, story, tale, taradiddle, untruth, whopper
By its definition, a fairy tale is a lie. In the context of spiritual things, any belief we hold that is the opposite of truth comes directly from the Father of Lies. Watching or reading a fairy tale is a fine choice of entertainment, but living a fairy tale is a dangerous road that leads to destruction. 
Music, movies, magazines—all of the media that surrounds us in this modern world is feeding us a myth that happiness can come from finding the perfect man, having the perfect body or spending all of your money buying the perfect products. But the truth is that we can only find our "happily ever after" if we center our lives on our one true love, Jesus Christ.
People have asked me why I decided to write Forgetting the Fairy Tale. My answer is simple. I couldn't NOT write it. God wouldn't let me get away from this message, nor did I want to escape it.
I had to do what I could to stop the flood of fairy tale casualties.
Everywhere I turned I saw people believing the lies of Satan. Every time I witnessed a young girl make a choice with the underlying belief that it would bring her happiness apart from Christ, my heart would break. Every time I witnessed a marriage fall apart because of Satan's lies I mourned the effect it had on my friends and those generations from now that would be impacted by those same choices.
Have you found yourself believing the lie that true happiness can be found outside of an intimate relationship with Jesus Christ? If so, I encourage you to read Forgetting the Fairy Tale. The truths of Scripture contained in the book are sure to speak to your heart and open your mind to what it means to have Jesus be your Prince Charming.
If you would like to purchase a paper or electronic copy, you may do so by visiting Amazon, Barnes and Noble, or Tate Publishing websites. To read reviews and endorsements of the book, click here.
Related posts: