Does 1 + 1 always equal 2? Not in Jesus math!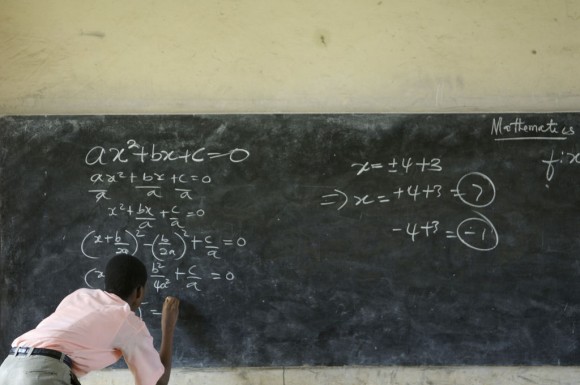 In speaking with a friend this weekend, I was reminded of advice someone gave me once.
Start with what you have, where you are.
I was struggling at the time with a huge vision and burden the Lord had placed on my heart, and I was frustrated. It seemed every time I tried to pursue that vision I would run into a wall. I felt like my dream was a carrot at the end of a stick that was always out of reach. This confused me because I knew the vision was God ordained. I couldn't understand why He would give me a vision and not allow me to pursue it.
My very wise friend shared that God often gives grand visions of plans He has for us at a later time, but with only a first step to take in the moment. That first step seems so small. It's tempting to dismiss it as a waste of our time or energy. We want to jump into the thick of the dream, but Jesus wants to teach us to be faithful in the little things. Jesus wants us to take our little and do great things with it so that He can be glorified. Paul speaks of this in 1 Corinthians 1:26-31:
For consider your calling, brothers: not many of you were wise according to worldly standards, not many were powerful, not many were of noble birth. But God chose what is foolish in the world to shame the wise; God chose what is weak in the world to shame the strong; God chose what is low and despised in the world, even things that are not, to bring to nothing things that are, so that no human being might boast in the presence of God. And because of him you are in Christ Jesus, who became to us wisdom from God, righteousness and sanctification and redemption, so that, as it is written, "Let the one who boasts, boast in the Lord."
Sometimes Jesus uses the rich, the powerful, the popular, the strong…but most of the time He doesn't. Most of the time He takes the little bit of who we are and multiplies it through the power of the Holy Spirit.
One former persecutor of the church writes half of the New Testament
Two loaves and two fishes feed a multitude
Five talents are doubled
Twelve blue-collar guys cast out demons, heal the sick, and minister to multitudes
One hundred and twenty followers of Jesus start a world-wide revolution and spread the gospel to the ends of the earth
What do you have that Jesus wants for His equation?
Do you like to knit? You can make baby booties and blankets for a local pregnancy shelter. Are you musical? You can sing or play in church, or join a community group for musicians and reach those people for Jesus. Do you love kids? You can volunteer to babysit for people that wouldn't normally be able to afford a sitter so they can have a few hours to themselves. Do you have a crazy big dream that seems impossible for you to tackle? Good! Ask God where He wants you to begin and start in the power of the Holy Spirit. If you consistently surrender to the little promptings and seek the strength of the Holy Spirit, in time, He will take your little and multiply it to reap the harvest He planted in your heart.
Have you experienced Jesus math in your own life? If so, I'd love to hear about it in the comments below. 
Photo credit: World Bank Photo Collection / Foter / CC BY-NC-ND
Related posts: