If you don't care about my awkward attempt at humorously telling my penny floor story and just want tips on doing your own, skip to the headings after the pictures.
There once was a young, bordering on middle-aged, writer who dreamed of having an office—her very own space full of beauty and inspiration…and without the consternation of ticking clocks.
One fine, Autumn day, the kind and generous father of this fair-skinned writer granted his daughter's wish. He commissioned assistance from the writer's much older (wink), and handier brother to build a wall. It would be a great wall, (not a Chinese or Mexican wall) dividing their screened porch in two. This wonderful wall and accompanying windows framed in a 10 x 12 foot space perfect for a writer's nook.
Construction began after the first of the new year, adding hope and cheer into the writer's otherwise dreary Mid-Western winter. The writer grew more and more excited as the weeks passed, photo-journaling the progress for all the world to see on Instagram.
Finally, the day came when the writer's brother was done installing the wall, making way for the writer to paint and lay a penny floor.
Inspired by Pinterest, and armed with supplies from Lowe's, the writer primed and painted, penned and listened to podcasts for hours…which stretched into days…and morphed into weeks.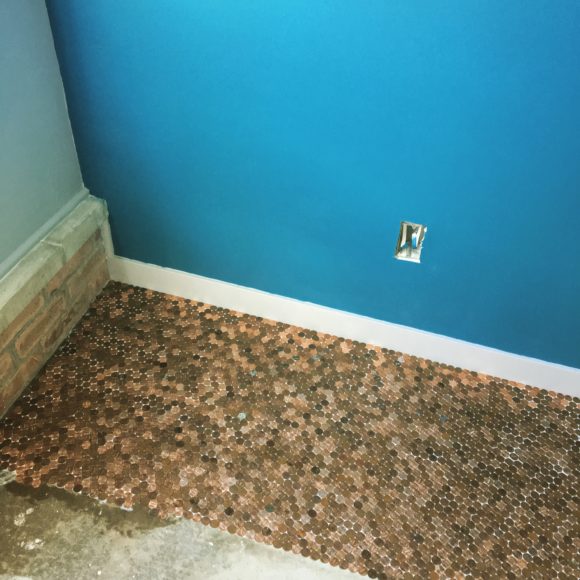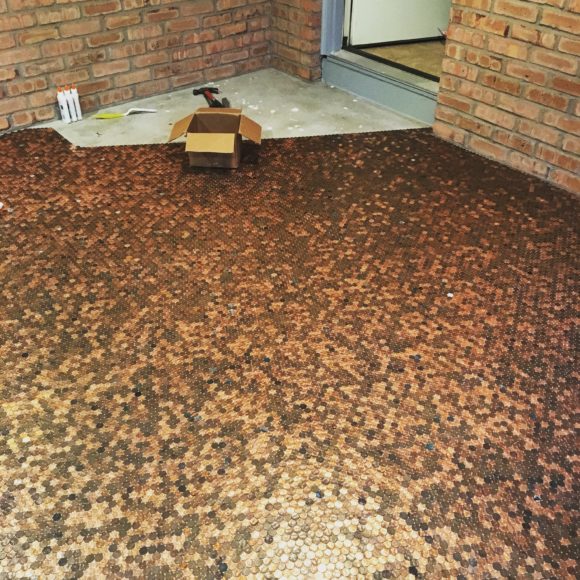 Weary from her labors, the writer grew impatient. She wondered if her efforts would ever truly result in her much prayed for haven. She wondered and prayed and wondered and prayed until she glued her final penny to the floor.
Calling again for the help of her faithful family, the writer took the next step in her journey towards her precious place—she grouted. Dark and gushy, the grout oozed between the pennies, tying the floor together and creating a beautiful, mostly level foundation above which she hoped many best-selling books would be written. The end was in sight! Or so she thought.
Morning came and with the dawn the writer wiped the remaining grout haze from the floor and prepared the polyurethane to seal the floor. With bated breath, the writer applied the first coat and set her alarm for the appropriate dry time. As soon as the tinkling tones sounded, the writer dashed to the doorway and…OH NO!! Instead of a beautiful matte finish on her penny-covered floor, the writer found a hazy, streaky, hardened mess!
The writer scoured Google and called wise experts to determine what went wrong. No one could say for sure, but everyone agreed the film must come up.
The next several days were filled with despair and fix-it attempts. Sadly, nothing worked. Would her penny floor be ruined forever?
Praying for a miracle, the writer tried one last remedy—the citrus stripper. Down went the orange goo and up went the writer's hopes. Mineral spirits and scrubbing followed and clean pennies emerged.
Hooray!
After many more days of stripping section by section, the writer was victorious. But she still wasn't done! Back to Lowe's went the writer in search of better, clearer polyurethane. The writer returned home and applied, one, two, three coats of lovely, streak-free gloss. The beautiful penny floor shined as brightly as the writer's smile. Her hard work and determination paid off.
The writer waited ever so impatiently for the last coat to dry, then filled her new office with furniture, books, and her beloved non-ticking clock. When the last pen was in its place, the writer admired all that had been done and called it good. She gave thanks to the many who took part in making her writing haven a dream come true: her generous father, handy rather, hard-working niece, helpful nephew, and her Lord, who provided the inspiration, funds, location, and family.
To her faithful blog readers, the writer crafted a quirky missive to share her construction saga and to thank them for sticking by her side during her many days of laying pennies and not writing blog posts. She hoped her penny floor parable makes them smile.
The Moral of the Story
He has made everything beautiful in its time. Ecclesiastes 3:11 ESV

Tips for Creating Your Own Penny Floor
Gather all of your pennies at once.
Unless you have a giant bucket of pennies you've collected over the years, this step is more difficult than it appears. This is also a step I ignored. I regretted that choice later.
The reason for it is the variations in color of the pennies as they age. Most of my floor looks rather uniform, but there is one section with a large amount of old, tan color pennies, and another section has a larger number of new, bright pennies in it. If I had gathered all the pennies I needed at the beginning, this could have been avoided. All in all, it looks fine. But without furniture, you can see a difference as you walk around the room.
As a guide, I estimated 270 pennies per square foot, or 27,000 for my 10 x 12 room. This estimate came from one of the bloggers I read that made the 12 x 12 squares before laying her pennies. I took her word for it. I didn't do a final count myself.
Glue pennies directly to the subfloor.
You may see many suggestions for making 12 x 12 panels of pennies before laying them on the floor. Don't bother. I used Elmer's glue (yes, the stuff you peeled off your hands like skin when you were a kid) and adhered the pennies directly to the floor. This was great for several reasons.
The Elmer's allowed me to use a hammer to pull up the pennies if they dried out of place
It removed any potential lines from the panels not fitting exactly right
This method required fewer materials
It allowed me to follow the curve of the floor as it was designed to slope towards a drain. I could have used cement to level the floor, but I knew it would be fine once the furniture was in so I didn't take that step.
Several warnings about the gluing process
If you use too much glue, you'll have hard white gunk between your pennies that the grout may or may not cover later.
If you use too little glue, the pennies will come up during the grouting process making you want to cuss like a sailor.
Grout
This step is technically optional. If you use epoxy it is self-leveling to 1/8″. It also takes longer to dry and can be tricky with mixing and getting any bubbles out so I chose to polyurethane my floor instead. Because of the gray grout used in the two brick walls of the space, I chose to grout my pennies using a charcoal colored sanded grout. It is dark enough to enhance the pennies without being black.
I read blogs where some chose to use a tan color to blend better with the pennies and others used black and said it really made the pennies pop. I suppose it comes down to what you want your floor to look like in the end. If you do choose to skip this step and use epoxy, keep in mind that you'll be able to see things like paint splotches in the gaps between the pennies.
Polyurethane
If you read the above parable, you'll know this step should have been the easiest and it turned out to be HORRIBLE.
This happened for two reasons. First, I didn't want a super shiny finish that looked like a bar top on my floor. I was hoping for a more antique look and thought a matte polyurethane would help with this. Second, the matte polyurethane had been discontinued and the one gallon they had left was more than half off. This should have been a warning to me, but I was all about saving money at the time.
Sadly, the particles in the poly mixed poorly and left my floor streaky and cloudy. They also soaked into the grout and made it dull and milky looking. The stripper pulled the poly off the surface of the pennies and grout, but what soaked in beyond the surface stayed there. Thankfully, when I applied the gloss coat it seemed to mix with the original and darkened the grout somewhat. However, it still doesn't look as great as it first did before my matte poly fiasco.
If you aren't super interested in a shiny floor either, you can lay several coats of gloss and then cover it in a semi-gloss poly to dull some of the shine at the end. I read this handy tip AFTER my blunder. Oops. Turns out, I really like the look of it shiny so all's well that ends well.
I used Minwax Ultimate Floor Finish in gloss. It's a water-based, quick drying poly. You can walk on it in socks after 24 hours and put furniture on it after 48. I waited an extra 18 hours just to be safe. It takes a full 7 days to cure so be careful and don't lay any rugs down until the full week is up. It's expensive, but so is floor stripper, mineral spirits, gloves and steel wool. And those steel wool splinters hurt! Do yourself a favor and get the good stuff. You'll be done in three coats (2 hours between coats for a total of 6 hours plus dry time) and you'll be so happy you learned from my mistakes.
Enjoy your penny floor!
That's it! If you are willing to spend some tedious hours getting a sore back, or if you have several really great friends that will help you lay all the pennies, you can have a beautiful, multi-toned copper floor for less than $3 a square foot depending on the materials you choose.
Even despite my setbacks, I truly love this floor and would do it again. If you decide to give it a try, send me pictures! I'd love to see your special place shine too.
Any questions? Post a comment below and I'll try my best to answer. Happy DIYing!