I am heartbroken. I have witnessed the slow and painful death of a dear friend and with that loss has gone my joy and purpose in life. What friend? The precious and altogether lovely Word of God—the Bible. What was once a God-breathed, living, powerful, giver of hope and peace and joy has become nothing more than a paperweight. Or so it seems.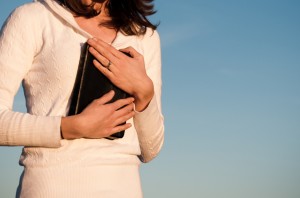 As I look around, I see It carried everywhere. I hear It being referred to and quoted, but I do not see It being followed and revered. Its precepts and admonitions are often misinterpreted or ignored. It almost seems like Its presence is an offense—a stumbling block to personal agendas.
Friends, Luke states in his gospel, "For unto whomsoever much is given, of him shall be much required," (Luke 12:48) and we have been given much.
Not only do we in America have the Word of God in our language, we have multiple copies. In addition to this great gift, we have study guides, dictionaries, concordances, commentaries, historical resources and much more to help us further understand the depths of Scripture. We are priveleged to hear preaching and teaching every week—even daily should we choose to seek it out. But do we heed these things? No. Do we value these modern-day miracles? Not at all. It is much more important to us to abide by the rules of culture and tradition or to listen to the advice of our friends and Facebook buddies than to seek wisdom from heaven.
It seems as if the average Christian thinks that only pastors will be held accountable for what is recorded in God's Sacred Text. Nothing could be further from the truth. Each one of us will be held in account for our treatment of God's Word. No one shall be exempt.
I read the words of Paul in II Timothy 3:1-7 "That in the last days perilous times shall come. For men shall be lovers of their own selves, covetous, boasters, proud, blasphemers, disobedient to parents, unthankful, unholy. Without natural affection, trucebreakers, false accusers, incontinent, fierce, despisers of those that are good."
Perhaps that doesn't sound like your local body of believers, or does it? I encourage you to read on.
"Traitors, heady, highminded, lovers of pleasures more than lovers of God; Having a form of godliness, but denying the power thereof: from such turn away. For of this sort are they which creep into houses, and lead captive silly women laden with sins, led away with divers lusts, Ever learning, and never able to come to the knowledge of the truth."
Does that strike you as it does me? This the local church of the 21st century! This is you and me! God have mercy! We have turned away from the commands of God's holy Word and in turn He has turned away from us. He has withdrawn the power of His mighty hand from our churches and left us alone with our agendas.
Ladies and gentlemen, the Holy Spirit has left the building.
"I want to encourage this mighty longing after God. The lack of it has brought us to our present low estate. The stiff and wooden quality about our religious lives is a result of our lack of holy desire…Acute desire must be present or there will be no manifestation of Christ to His people. He waits to be wanted. Too bad that with many of us He waits so long, so very long, in vain." – A.W. Tozer
"As for me, I will behold thy face in righteousness: I shall be satisfied, when I awake, with thy likeness." – Psalm 17:15
Related posts: