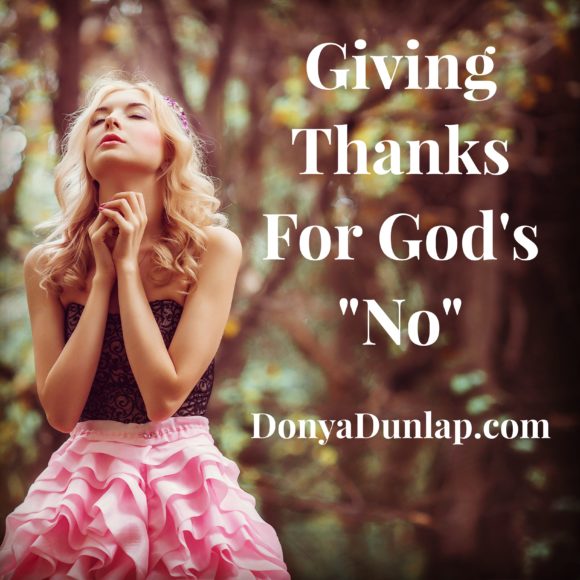 Giving thanks for answered prayer is a joy when the answer is yes. But God's answer doesn't always come to us in the form we request. Sometimes God answers in an unexpected turn of events. And sometimes He simply says, "no."
Fifteen years ago I thought I had my life all planned out. I was going to marry the man of my dreams and have a family and be a faithful servant in our local church. I didn't understand why God let it all fall apart.
Three years ago I moved to Charlotte to start a women's ministry. I thought I might stay there forever. God had other plans.
Six months ago my mother was diagnosed with cancer. I wanted her to stay here. I wanted her to be well. God said no.
Blessings in disguise
These three seasons of prayer reflect extremely difficult times in my life, but looking back, I can truly give thanks for what God has done. My life as a single has brought amazing gifts I could never have imagined and opportunities to serve God that others envy.
My time in Charlotte was full of challenges and blessings. I learned so much and I grew in my relationship with Christ. I don't regret one minute of my short time there.
Now, I wish more than anything that I could hug my mom again and talk with her. The pain of her absence is with me every day. But she's with Jesus and I wouldn't take her away from Him if I could. Her body is whole and she is with people she loves who have gone before her. I'm happy for my mom.
Prayer changes us, not always our circumstances
Above all things I pray that God will honor His promise in Psalm 37:4 to give me the desires of my heart. But before He does, I ask that He first align my desires to His will. I have learned I don't always know what is best for myself. But if I surrender my will to His loving hand, He will work all things together for good—both for my benefit and for His glory.
If you then, who are evil, know how to give good gifts to your children, how much more will your Father who is in heaven give good things to those who ask him! – Matthew 7:11
When I was young and my tender heart was broken I couldn't see the good. Still, time has shown God's promises to be true. God does give His children all good things. The difficult thing is to remember that Matthew 7:11 is true whether or not our circumstances appear to be good.
Even in the midst of our darkest days, God's Word is true.
Click To Tweet
Even in the midst of our darkest days, God's Word is true. Trusting in His promises can give us peace and hope to carry us through the trials we all must face. If we choose to run to God in our pain, we will be protected from the bitter thoughts, anger, and fear trying to rob us of our joy, health, and testimony.
The Great I AM can be trusted with little me
I wish I knew 15 years ago what I know today. I wish I had trusted God more and been more faithful during difficult trials. Those things that brought me great pain I now count as precious in my life. Even in my current grief, I can find reasons to give thanks. It's not always easy, but I know that God is at work, even in the death of my mom.
As I look to the future and the uncertainty of what tomorrow holds, God's faithfulness in the past and His promises for the present give me courage. Regardless of whether or not my prayers are answered according to my plans, I will choose to be thankful. I will remember Romans 8:28 and I will trust the Spirit who is holding me up before the throne, seeking God's best for my life.
Related posts: