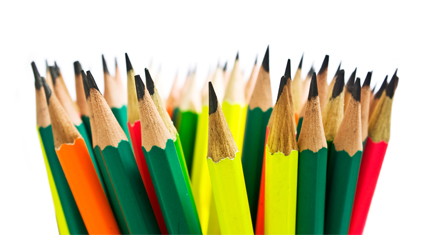 As a beginning designer I knew very little about what artists call The Creative Process. When working on a logo, I might sketch out a few ideas, but then I would jump right into my design software and work on flushing out a solution. I skipped several important steps.
Before you can adequately summarize an organization, a person, a product or group into a symbolic representation, research must be done. You need to learn all the various aspects of the its goals, its personality, its people, its mission and more before you will know how to begin a design.
From there you need to brainstorm. Taking into account all the various things you learned in your research, you then begin to consider images that symbolize those concepts and how they relate to each other. You have to consider color and the color meaning, single shapes, complex shapes, and styles. You have to try out a multitude of ideas and from there refine and refine and refine until you arrive at a completed image that adequately represents everything your client is trying to communicate to their audience.
There is a similar creative process that happens in our relationship with God.
Often we are saved and become comfortable at a church then jump right into super-Christian mode and try to serve the Savior without really knowing Him. We skip the learning and meditating parts of getting to know God and try to make Him happy with us based on our performance.
This kind of mentality hurts us and our "audience" in several ways.
We never know what it is like to have a true, deep, meaningful relationship with God
We lack an understanding of who God is and how He views us as His children
We are continually frustrated with our shortcomings, and translate that into a belief that God must not be pleased with us either
We misrepresent God to others by not walking in the Spirit and therefore causing unsaved people to think that Christians aren't any better than the world which also effects their view of God
I wrote of this in my soon to be released book, Forgetting the Fairy Tale:
We blissfully enjoy all of God's blessing until He takes away a relationship, or allows us to have a terminal illness, or doesn't allow us to get married, or anything else contrary to our picture perfect Christian lives, and then we turn our backs on Him. Why? Not because He doesn't love us anymore, but because we really never loved Him. We never got to know Him. So when He does something that doesn't match our image of Him we get angry… We become bitter.
God is so far above us and His ways are so much higher than our ways. We will never be able to truly know Him in all of His complexity because we are human and He is divine. But we can continually grown in knowledge of His person and His grace if we "do our homework" so to speak. If we stop the continual motion of our lives and simply sit at His feet, read His Word and listen for His voice, He will reveal Himself to us.
James 4:8 tells us to "draw night to God, and He will draw nigh to you."
The reason that we struggle so much with what God does is that we don't know who God is. We need to pause, rewind, and court our Savior. Just like any human relationship, understanding and love takes time.
I encourage you to pull out some paper and colored pens and hang out with Him for a while. Write out His characteristics and what they mean to you. Look up verses that talk about His majesty. Read through the Gospels and write down observations of Jesus' character and personality that stand out to you. Draw picture graphs outlining truths of who God says He is and who He says we are in Him. Get creative!
What can you do today to get creative with your relationship with God? I'd love for you to share your ideas in the comments below.