I am a fan of author Tim Ferris and have considered adopting his 5-bullet Friday posts for this blog for some time now. I find it helpful to learn from what others are learning and reading. Perhaps you are the same way? If so, these Five Dot Friday posts should be fun for us both.
• What I'm Reading
Thanks to this Ollie's Score, I've been on a Mark Batterson kick the past two weeks. Truth be told, Craig Groeschel's The Christian Athiest started me on the theme of really believing God for everything in every area of your life. I followed that with All In and now The Grave Robber: How Jesus Can Make Your Impossible Possible, both by Batterson.
None of these books are deep theological treasures, but they are encouraging and inspiring and I have enjoyed all of them thus far. If I stick to it and finish before picking something else up, The Grave Robber will be #29 towards my goal of reading 50 books this year.
• What I'm Learning
This bullet could be a post in itself. Bookkeeping. Fundraising. Understanding borderline personality disorder. Social media for nonprofit use. The thankfulness and joy connection. So many things have been pulling on my brain of late.
I think the one that stands out the most is learning to give myself grace. This is hard for me. For as long as I can remember I've been extremely hard on myself—mentally beating myself for any perceived flaw, inability, mistake, or failure. I even struggle with accepting praise for things I've done well, knowing the ways in which I fell short of perfection that others will never know. This mental habit is an unhealthy way to live and breeds anxiety, guilt, and fear.
Instead of rehearsing what went wrong or how I failed, I've been trying to focus on what went right and progress made. I ask myself questions like, "Did I do the best I could with the information I had at the time?" Or "Was I wrong in my attitude or intent during that exchange?" If the answers are "yes, I did my best" and "no, my motive was pure" then I can relax, even if the end result is different than I had hoped.
I suspect this work of giving grace will be a life-long endeavor, but I am thankful for the ways I have grown in this area in recent months and even this week.
• What I'm Working On
I live a double life of writing and nonprofit work so this is a double answer. In my work with Trihope, I've been planning several upcoming events such as a Survivor's Night in September and a Support Group Retreat in February for survivors of sexual assault, abuse, and exploitation. It's been some time since I've been able to take part in event planning and I'm happy to be back at it. This time for a group of people I'm passionate about serving. It's exciting to see how God is working.
Want to know more about Trihope? Ask me! I'd love to share.
In my writing
life I'm currently working on the final edits for the Forgetting the Fairy Tale Companion Guide and the layout for the new edition of Forgetting the Fairy Tale. These projects have been in the works for at least a year now. I am so excited for them to be nearly complete! Keep an eye out for a September Amazon release!
• What I'm Thankful For
Sunshine. Always sunshine. And my new-to-me MacBook Pro. I'm incredibly grateful for the answer to prayer this laptop is. It's already been a huge help in ministry and my writing projects too.
This week I am especially grateful for good friends and wise co-workers who speak truth into hurting places. I have found so much healing this past year, despite the last 17 months being the hardest of my life. Many of the areas are still too fresh and deeply personal to share, but I suspect they will make their way into my writing when the time is right.
A few areas happened so long ago I had forgotten about them. I didn't even realize the impact they were having on my life on a consistent basis. Yet God, in His unfathomable goodness, brought them back to the forefront of my heart so I might recognize the damage done and move forward toward grace-filled wholeness. Isn't He so good?
• Quote
"To an omnipotent God, there are no degrees of difficulty." – Mark Batterson, The Grave Robber
This is a good reminder as I am learning to expand my trust and ask God for some pretty incredible miracles these days! You can pray with me for full funding of my Trihope Fundraising Account ($1635 in monthly giving). We also are in need of office space at little to no cost and sufficient for Trihope's growing ministry. If you would like to join my Fundraising Support Team, you can donate here!

To an omnipotent God, there are no degrees of difficulty. - Mark Batterson, The Grave Robber Click To Tweet

Bonus: Favorite Thing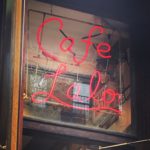 Six Dot Friday doesn't have the same ring to it as Five Dot Friday, so for a bonus I'm sharing one of my favorite things!
It's been a while since Easter Weekend, but I want to share a nugget from my trip to New York City. I do hope to post more about my trip in a later blog post, but for now I'll share this little jewel from the first morning of exploring the city. Cafe Lalo! If you know how in love I am with the movie You've Got Mail, you can imagine how excited I was to be here in person. It was a bucket list thing for me to hit all of the places in my favorite scenes in the movie.
Cafe Lalo is where Joe Fox (Tom Hanks) realizes that the woman he has fallen in love with through an online chat room (this is the 90's people) is Kathleen Kelly (Meg Ryan), his competition in the book business.
"Kevin, this woman is the most adorable creature I have ever been in contact with. And if she turns out even to be as good looking as a mailbox, I'd be crazy not to turn my life upside down and marry her."
I still smile like a giddy school girl during this scene—proof that INTJ's really are gooey in the middle. My whole NYC trip was a God gift. Cafe Lalo was a special treat. The cannoli was good too!
That's it for my first Five Dot Friday! (Please forgive the abundance of exclamation points.) Have a great weekend!